Probate of A Decedent's Estate in Massachusetts:
Which level and form of Probate Do You Need?
In Massachusetts, the Probate process begins with a Petition that we file a petition in the Registry of Probate. There are three levels of Probate. Which one will work for you? That depends on the total value of estate assets, whether there is controversy (arguments and fights) over the estate nd whether there is real estate.
Voluntary Administration: This procedure works when the total estate value is under $25,000 + a motor vehicle.
Informal Probate: Requirement for Petition 3-301, Notice, and Findings. Publication 30 days after Allowance of Petition.
Formal Probate: Purpose of Petition 3-401. These Formal Proceeding are needed when it is necessary to: Determine the identity of the heirs and whether the will is valid, or that the decedent did not leave a valid will 3-402.
Ownership of an asset can be passed without probate if the assets is controlled by a Trust, a joint ownership arrangement or beneficiary designations already filed with a bank or insurance company. If these advance arrangements were not made, legal title must be transferred through the Probate process. If there is a Will, Probate transfers property from:
The Decedent >>>to>>> The Devisees (people) who are Named in the Will. 1-201(11)
If there is no Will, Probate procedures are needed to transfer property and assets from:
The Decedent >>>to>>> The Heirs, including the surviving spouse and the commonwealth, who are entitled under the statutes of intestate succession to the property of a decedent.
1-201(21)
With or without a Will document, the personal representative must determine which form of probate to use, to transfer legal ownership of the decedent's property.
Because Informal Probate leaves open the possibility that someone could object to the will until 3 years after a decedent's death, there are questions about whether real estate buyers can accept deeds transferred through the informal process. A Title Standard does allow deeds signed by the Personal Representative of an Informally Probate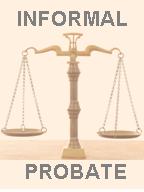 d estate, but only if there is a power of sale in the decedent's Will document, and no one has fil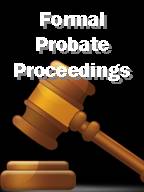 ed objections to the Will. The Legislature has passed subsection 23½ to Section 3-715 of the Probate Code, giving the informally appointed Personal Representative a power to sell real estate, IF the Will included the Power to Sell. If there is no will, or there have been objections to the will, people who buy real estate from an estate are going to insist on Formal probate or a Probate Court license to sell the real estate. Even with a Will that does contain a Power of Sale, Formal Probate may still be needed.

MA Uniform Probate Code
Eff. April 2012

Probate of the estate must be filed within 3 years of a decedent's death. (The 3 year Limitation only applies to commencing the estate, not to closing the estate.)
Exceptions to 3 year time limit include fraud, doubts about decedent's death, and contesting informal proceedings
Exception with no time limit: Sole purpose of establishing a devise of real estate if there was no proceeding within 3 years of decedent's death
Here is a list of ways that Probate can work for you and your family:
Probate makes sure the heirs or intended beneficiaries get their share of the Estate
Probate can prove how the decedent has expressed his or her intentions for distributing property and assets to surviving people, upon death (The word Probate comes from the Latin word meaning to prove.)
Probate shuts the door on a decedent's creditors. Unless those creditors have perfected their liens before the decedent's death, or they file claims according to special Probate procedures, the creditors are finished.
Probate handles the transfer of property. When assets such as real estate, a bank account, or stocks and bonds cannot be reached by the family or heirs of a deceased person, Probate provides the answer to the question of who gets ownership of that property.
Properly drafted Wills and Trusts reduce the cost of Settling an Estate, and that's a blessing to surviving family members. Without advance planning, family members will be confronted with complicated decisions and tasks involved with managing and distributing property, at the very time they are grieving the loss of a loved one.
For estate planning and estate settlement services that keep you in control of the probate process, and for answers to questions from the decedent's heirs and family members, call us at 567-5600.